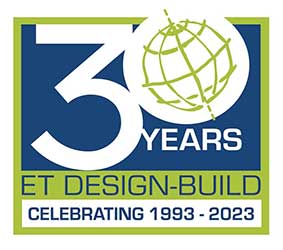 Your single-source partner from design through construction.
Our in-house approach to integrated projects leads to quick completion times, world-class quality, and seamless communication.
Environmental
30 years ago when ET was founded, the focus was on environmental projects. Environmental engineering design and construction quickly grew to include transfer stations, recycling facilities, landfill upgrades, air pollution control, and wastewater and process water treatment.
Industrial
ET's Industrial sector focuses on projects related to specialized and complex facilities, processes, and systems for the Food and Beverage, Manufacturing, Transportation, and Logistics industries. This covers all stages of the supply chain including industrial campuses, processing plants, storage and distribution centers, and support systems such as wastewater, water treatment, and leachate treatment plants.
Energy
ET's Energy Division began nearly 20 years ago and has since expanded to encompass alternative and renewable energy, natural gas fueling and infrastructure, biogas, power generation, and traditional midstream oil and gas.
Decades of results.
Nationwide experience.
ET Design-Build was founded as an environmental services and construction management firm and now has many diverse offerings.
ET's primary project delivery method is the single point of contact Design-Build model as well as General Contracting, Construction Management at Risk and Agency Construction Management services. With 13 offices nationwide, ET offers services to its clients throughout the US.  We serve as an extension of your staff, and a trusted partner looking out for your best interests.
Get In Touch
Whether you are an industry leader, a valued client, a prospective employee, or a curious passerby, we'd love to begin a conversation!

Have you ever heard of National Biodiesel day?  As alternative fuels continue to grow, it may be more important than you think! 
In a year when so many have faced challenges, ET Design-Build wishes to extend our hands to help others.
Explore food transparency, consuming on-demand, health, wellness and plant-based products.